"We rented two beach cuizers and took down along the beach! What a blast!...I don't think I have ever had a better time on a bike. Oh and thanks for the basket"
Blue Coast Shop is the place to go for fun in Daytona Beach Shores.
We have all the fun you seek for rentals on the River or Beach.
"I wound up seeing this place walking down the road one day and noticed they rent surfboards. I came In today to get one. The inside was really small but they had a lot to offer.
The lady working there is super nice. I was able to get a surfboard right away and the process for renting one was quick and easy.
They also give surfing lessons and paddle board lesson. The also rent out bicycles as well. For surfboard they have longboard, shortboards and foam boards (for beginners).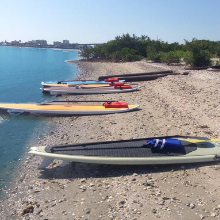 What People
are Saying ...
The prices won't kill your wallet either. I spent $35 to use a longboard for an entire day which was great. I also asked of I can keep it until tomorrow and she told me I could and that tomorrow she would only change me $25. I also bought a hot pink rash guard. The material was really nice and I got 10% off on it since I rented a surfboard which was amazing!!!!
Highly suggest checking this place out if your in Daytona!" -Alyssa G. Yelp review

Bicycles: Single Speed beach cruisers $7/HR $25/Day $75/WK
3 Speed Cruisers $10/HR $35/Day $100/WK
Tandem/Trike/Child Seat & trailer
Stand Up PaddleBoards & Kayaks:
Surfboards: Soft Tops $20/Day Hard Board $35/day
Skimboards & Boogie Boards $15/Day
SUP River Tours $40/per person.
Enjoy a 1-1.5 hour tour among islands, manatees, dolphins and sea turtles.